Dear Friends of Zion,
The first time I stood outside the simple yet lovely frame of Zion and allowed myself to take in its beauty, I was filled with an incredible feeling of peace. Even before stepping through the door, I could sense that Zion is truly a holy place, filled with great love and the gentleness of God's Spirit.
That initial feeling of peace is what helped me to discern my call to ministry at Zion, and over the course of my time here, my experiences have only affirmed my belief that great ministry happens here. Within our church building, strangers are welcomed as friends, children learn to feel at home, and immense love and concern for God's people are shared through prayer. But, unfortunately even as our beautiful, spirit-filled worship space is a significant part of our ministry to one another and to the surrounding community, the cost of heating the church has become a drain on our budget due to rising oil prices and poor insulation.
The vestry has spent many months discussing and researching options for insulating the church building, and we have agreed to sign a contract with Hull Construction for the estimated project cost of $19,689. This estimate includes the projected cost of insulating the ceiling and walls, as well as adding storm windows. Although this is an expensive project, it will significantly cut our fuel oil expenses and allow us to put our pledges and fundraising dollars back into ministry.
As a faith community, we want to be responsible stewards of all that God has given us, including our financial resources and the earth's resources. So, we are asking for your help to complete our insulation project. A donation of any size will help us to keep the church warm and save energy. We appreciate your support and friendship.
Blessings,
The Rev Kay Houck
Zion Episcopal Church

Editor's note:
Although we all miss Rev. Kay and Matthew, we wish them all the best on their new adventure!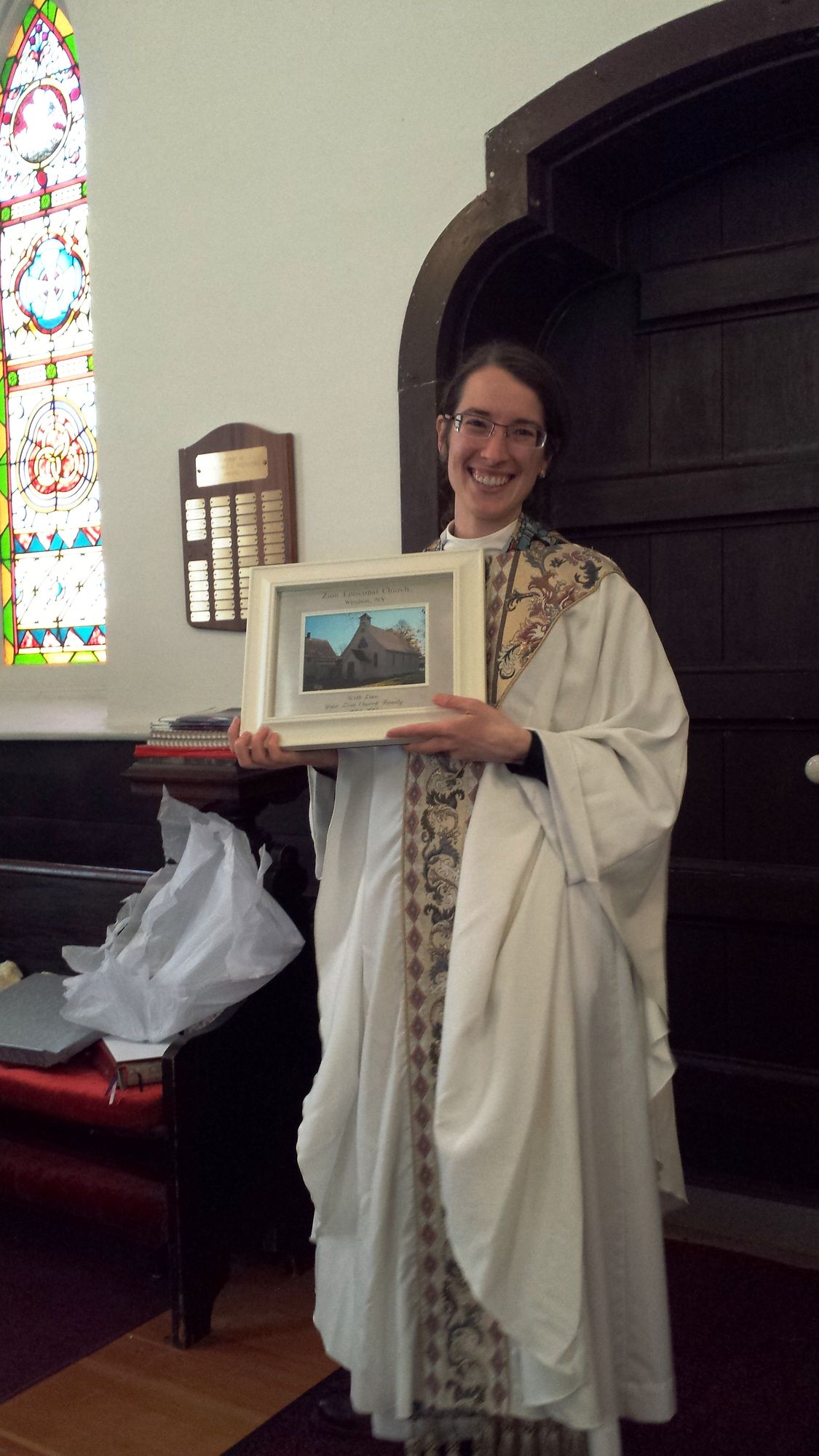 ---
The Rose window at Zion has been illuminated thanks to Remembrance Fund donations in memory of Charlotte Fox Carlin.
This light (installed for Easter Sunday 2015) is a permanent fixture that illuminates the Rose window from inside the church each evening from 8-11pm.
Stop by and see it some evening. It's truly lovely and Charlotte would just love it!